Have Tank Will Travel Guarantee:
For Hull Bottom & Topside / Cabin Cleaning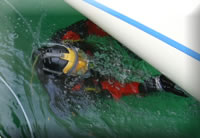 Our standards of bottom hull cleaning is at least one arm length above the water line to keel. The entire bottom gets cleaned 100 per cent. As we also do a complete Inspection of the Hull Running Gear, Props & Nuts, Shafts, Struts, Trim Tabs, Rudder, Through Hull Ports,or Hydraulic Lines.
For services on topside or cabin we use Special Safe Proven Products, to protect topside surfaces, as well as cabin surfaces.
Every time boat is cleaned, If we find any damage to props, shafts, trim tabs, hydraulic lines, rudder, clogged ports or signs of "Zebra Mussels," we'll notify you same day.
For Topside & Cabin Cleaning:
Should there be anything unusual, " ie " Electrical outlets or switches, scraches, torn canvas or other items, you will be notified same day.
What we use to scrub the hull bottom:
Soft fluffy lambs wool pad, 3M soft white pad,terry towel, soft scrub brush and medium bristle scrub brush.
For the more difficult Bottom Hull Cleanings various ranges of striping pads are used. This is a last resort measure and the owner of the boat will be notified in these cases prior to usage.
For sail boats that have apoxy bottoms we only use the 3M White Pad, and suggest that the boat is kept on a weekly cleaning plan to keep the bottom at it's peak condition.
Please note: That all fees are subject to boat size, conditions of the hull top & bottom, travel, polluted water, dangerous areas, service requiring more time to complete, weather and water temperatures below 55 degrees. If service is required on an emergency / last minute call or after October 15th different rates are applied.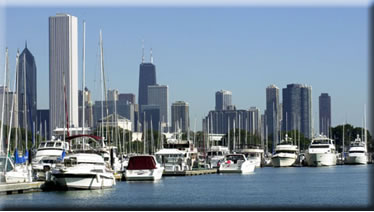 Burnham Harbor, Chicago, IL.

Bottom Hull / Topside / Cabin Cleaning
Prop Repair
Boat Keel Repair (In Water)
Underwater Maintenance / Inspection
Underwater Video / Pictures
Search & Recovery
Mechanical Services
Electrical / Heating / Air-Conditioning / Refrigeration
Fiberglass / Gel-Coat Repair / Bottom Paint
Canvas / New / Repair
Concierge / Assistance / Care Taker Services
Captain Services
Boat / Car / Truck & Rv Transport Services
Florida / Abroad ( Islands ) Winter Services
Splendide / Ariston Washer Combo Repair
Lee's Aerial Photo Service

For services not listed please feel free
to contact us to see if we can assist.

For Winter Requests, Adequate Advance Notice Is Necessary,
to allow proper scheduling, EXCEPT EMERGENCIES

If you are on a trip in the U.S. or abroad, and need assistance,
please remember we are here to help in any way
we possibly can. We always welcome new customers.

To discuss the program that's
right for you, please give us a call at:

630-833-2848 Bus.
773-203-4509 David Cell
773-203-4115 Linda Cell


You can also send an email or click on service request.